How to perfect the Hailey Bieber glazed nail
October 01 2022 – Nadia Stamp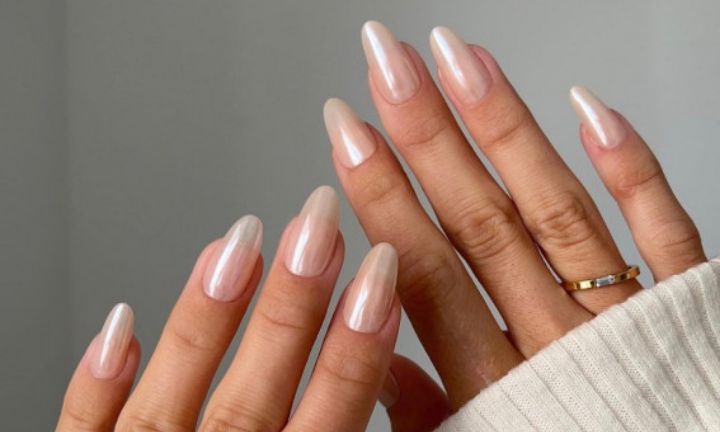 If you've scrolled through your Instagram or TikTok feed recently looking for some nail inspo, you might find every hashtag flooded with everyone and their mum trying out their version of Hailey Bieber's trendsetting 'glazed donut nails'. The look has taken social media by so much storm that you can simply walk into your local nail salon and ask for Hailey Bieber, and they'll immediately know what you're talking about. But what if you don't have time to go to the salon – or you want a handy DIY glazed nail that you can whip out anytime you need?
Here's a little secret about fashion trends: they come around and go around. Even the 'glazed donut nail' has been around for a while – it just needed someone with Hailey's swagger to bring it back into the spotlight. So there's a few handy hacks out there to perfect your own glazed nail – including with dip powder nails! Read on and find out: it's easier than you think.
So what is the Hailey Bieber glazed nail, exactly?
When you get down to the basics, the Hailey Bieber glazed nail is essentially an iridescent manicure that you achieve by using a gel top coat to lightly chrome your nails to create a smooth but shimmering nail surface. With just the right amount of buffing and a delicate sprinkling of chrome powder, the result is ultra-glamorous yet playful nails that look good enough to eat.
Some of us might be old enough to remember when chrome nails were causing a stir in the 2000s (feel your back hurting yet?) but Hailey's iconic Met Gala look is turning it up a notch by showing that the chrome look works so well with neutral tones, not just neon brights. But she made sure to throw it back to the mani's roots, with a jaw-dropping Sour Lemon Drop Glazed Donut Nail that elevated classic neon to new heights. She even paired the glazed nail look with a classic bombshell red for a modern take on old Hollywood style – talk about versatile! But we're here to show you that you can do it too, with a jaw-dropping dip powder colour like Revolution Red.
Can I recreate the glazed nail look at home?
The answer is yes – and what's even better is you can do it with any base of your choice, including dip powder nails, and use a metallic dip powder colour to create the chrome effect!
Choose the two dip powder colours you want to recreate the look with: ideally a solid colour for the base and a light metallic shade to achieve the chrome effect. If you're looking to emulate Hailey's all-weather glam glazed donut look, we recommend a solid neutral like Countess for the base and a subtle shimmering powder like Copper Rose Glitter for the chrome effect. Or perhaps you want to create your own neon throwback with Lemon Fizz?
An ideal choice would be to grab both your chosen colours as part of the DIPD Double Bundle Kit so you have everything you need to dip.
By following the foolproof method to great dip powder nails, apply your base colour as you normally would, right up to the activator stage. Don't forget to file, buff, and remove any excess activator liquid with rubbing alcohol.
The trick to the glazed nail look is at the top coat application stage. Swap out your regular top coat for a thin layer of good quality gel top coat, then use a portable LED curing lamp at the recommended settings to cure your nails for about 60 seconds (or as instructed on the lamp).
Now comes the fun bit – creating the chrome effect with your second colour. You can use your finger to rub the colour over the nail, but a good trick is to use a flat cotton bud-type eyeshadow applicator. Dip it in and keep rubbing the chrome colour all across the nail in small, circular motions until you're left with an even coverage that has a shimmering, burnished look to it. Cure your nails a second time for the required duration, dust off any excess powder with a kabuki brush, and apply one final thin layer of gel top coat – don't forget to seal off the top of your nail.
Et voila! Your very own glazed nails done at home. Along with dip powder nails, you can use this technique for stick-on nail tips, plus a variety of nail shapes – though Hailey's preferred statement is a bold rounded almond shape.
Have you tried to recreate the Hailey Bieber glazed nail look at home with your favourite dip powder colours? Share your happy snaps with us on social media!
Nadia xoxo