Save up to $75 on the Ultimate Bundle Kit when you subscribe | Free Standard AU Shipping (Min. $30 spend).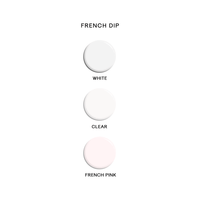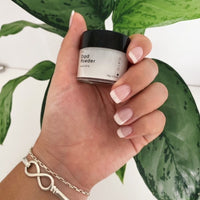 Classic French Starter Kit
Regular Price

$90.14

Sale Price

$90.14

Regular Price

$106.84

Unit Price

per
FRENCH STARTER KIT - 3 Powders + French Tray
Bring a touch of classic back with our DIPD French kit. Includes our easy-to-use French dipping tray.
This kit contains everything you need to create a lasting DIPD manicure. This complete kit gives you the 3 French dip powders and all the tools you need. 
DIPD is a long-wearing and effective manicure also widely known as SNS.
Bonding Clear Dip powder is recommended to be applied as the first dip powder before your colours. This powder adds a stronger foundation to prevent lifting and chipping. This crucial powder will help protect colour clarity and vibrancy also. 
INCLUDES:
• 3 x 15g Dip powder (French sheer pink, French white, Bonding clear dip)
• 12ml Primer liquid
• 12ml New Original Pro Formula Base coat resin 
• 12ml Activator liquid
• 12ml New Original Pro Formula Top coat resin 
• Crescent professional nail file
. DIPD French dip tray
• Block buffer and cuticle stick
• Deluxe kabuki dust brush
• How-to-guide
TIP:
Tap the lid before opening and stir with a cuticle stick to make sure colour is even for application. Do not paint your cuticles when dipping as the powder will stick to your skin. 
INGREDIENTS:
DIPD Powder: Titanium dioxide, benzoyl peroxide, acrylic ester polymer.
DIPD Primer: Ethyl acetate 
DIPD Top and Base coat: 2-methoxyethyl 2-cyanoacrylate Poly(methyl methacrylate)
DIPD Activator:Ethyl acetate, 2-Propanone
DIPD Brush saver: Nitroethane.
DIRECTIONS:
1. Apply a thin line of base coat on the nail where it meets the tips.
2. Dip your nail into the French Pink powder on an angle and pull straight out, gently brush excess.
3. Apply base coat to 3/4 of the nail including the entire tip and dip again in the French Pink powder, gently brush excess.
4. Prepare your French dip tray, we suggest filling the tray half way up with the French White powder.
5. Apply base coat to you entire nail from bottom to tip.
6. Slowly dip into the French White powder on which ever side of the tray you choose.
7. Dip the entire nail into the French Pink powder straight away, gently brush excess.
(Repeat step 5 and 6 again)
8. Straight away dip entire nail into the Clear dip powder, gently brush excess.
9. Apply base coat to entire nail and do a final dip into the Clear powder, gently brush excess.
PLEASE NOTE: The above products should be kept out of reach of children. If irritation occurs discontinue use immediately. These items are flammable so please do not store them near an open flame or in high heat. Ensure the lid is tightly sealed after each use. Please always wash your hands before and after use.
We gladly offer a 30-day 100% Money Back Guarantee if for any case you aren't happy. Your refund will be processed within 1 business day after we receive the returned products, provided they are returned within 30 days of delivery.
Let customers speak for us