6 Trending Pedicure Nail Polish Ideas for Autumn 2022
April 25 2022 – Nadia Stamp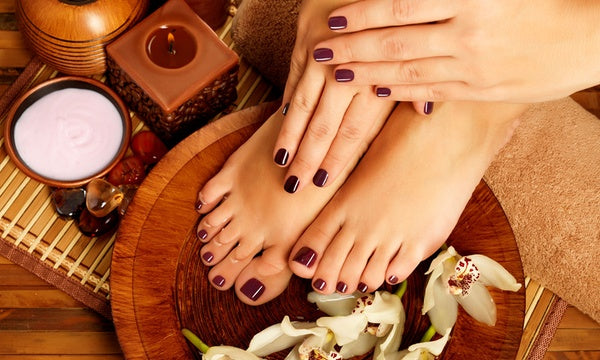 You may be thinking 'why bother with a pedicure when thong season is over'? But as the seasons change from summer to autumn, thongs simply make way for cute sandals and classy open-toed shoes, meaning your tippy toes still deserve to treat themselves and look their very best!
As we move on from summer to autumn fashions, we see the return of earthy tones, simple and understated glamour, and shades that remind us of pumpkin spice lattes. (We can hold this one over the northern hemisphere.) Likewise, your style choices are reflected in your nails, and while the feet are often overlooked in favour of the bold canvases of the hands, there's never a bad time to jazz them up with our DIPD Nail Polish range, all Australian made with our new and improved formula that is certified vegan, cruelty free and allergy free. Here's a look at six of the hottest trends in pedicures for autumn 2022.
From Bold to Soft Reds
The classic red is a staple of every must-have nail lookbook; there are so many reds that there's a shade for every season, every year. And this autumn 2022 it's all about reds with softer, gentler undertones - the kind of romance that begins with cracking open a bottle of red. And if you're looking to adorn your hands with something subtler, why not save the red for your toes? We recommend our Goji shade from our DIPD Nail Polish range, for a red that's soft but charming and perfectly accents that killer set of open heels you've been saving for when summer finally closes out.
The American Pedicure
We've previously covered both French and American manicures and the difference between the two classic looks, but did you know that they are equally as elegant and evergreen when done as pedicures? When it comes to choosing pedicures for autumn, the trend leans towards the subtler, muted tones, and so the American pedicure is the best way to go; this all-purpose look will serve you well into winter. Our DIPD Nail Polish range has got you covered with shades like Polar for the signature white, and Bloom or Biscuit for the perfect base colour. You'll never miss with these ever-reliable shades.
Add A Bit of Glitter
The festive season may be well behind us, but that doesn't mean we can't keep the sparkle going! There's plenty of gigs and cocktail parties coming up in the autumn where your peepers can still put on a show. If going all out on the glitter feels a bit overkill for the season, try experimenting with two-tone nails, a single glittery nail, or glitter strips with clear polish. Pair your favourite DIPD Nail Polish shade with any of our all-purpose glitter packs - we recommend our DIPD Brass Sprinkles to nail that autumn vibe. No matter the weather, glitter is always better! That's how the saying goes, right?
Blush, Baby, Blush
Have you noticed that every time autumn comes around, every fashion label makes a return to blush pink and its variants like dusty pink as their signature style? Medium-tone pinks have long been cherished as a shade that looks flattering on every woman, and the same goes for every woman's nails! It's also the perfect shade to wear in the workplace, now that most of us have returned to the office and we no longer need to conceal our toenails in our bathroom slippers. Check out our Goddess shade in our DIPD Nail Polish range of colours for a blush pink that never disappoints for any feet, anywhere, anytime. It's time for your feet to feel cute again!
Back in Black
It's been lurking backstage, biding its time until the sunshine seasons slowly wore away… but now that the temperature is dropping and the shadows are cropping up, black nails are ready to return with a vengeance. Screaming sophistication and mystery, black nails may not be everyone's cup of tea (unless you're a certified goth) but if you want your nails to stand out amid the darker hues of autumn wardrobes yet complement them perfectly, black is the way to go. Check out our Roxie shade in our DIPD Nail Polish range for a black that's bold yet classy and just what you need.
Mix and Match Nudes
Can't decide between one pretty, earthy, autumn-y shade? Why not have them all? From sandy hues to blushing pinks, you can mix them up between your toes to create the perfect autumn pedicure collage. Our Nude Polish Gift Pack is the perfect bundle that lets you save up by grabbing all your favourite nude shades in one to create a look for the season that's uniquely yours. 
Have you given your tiptoes a whole new look for the autumn season? Share your happy snaps with us on social media!
Nadia xoxo